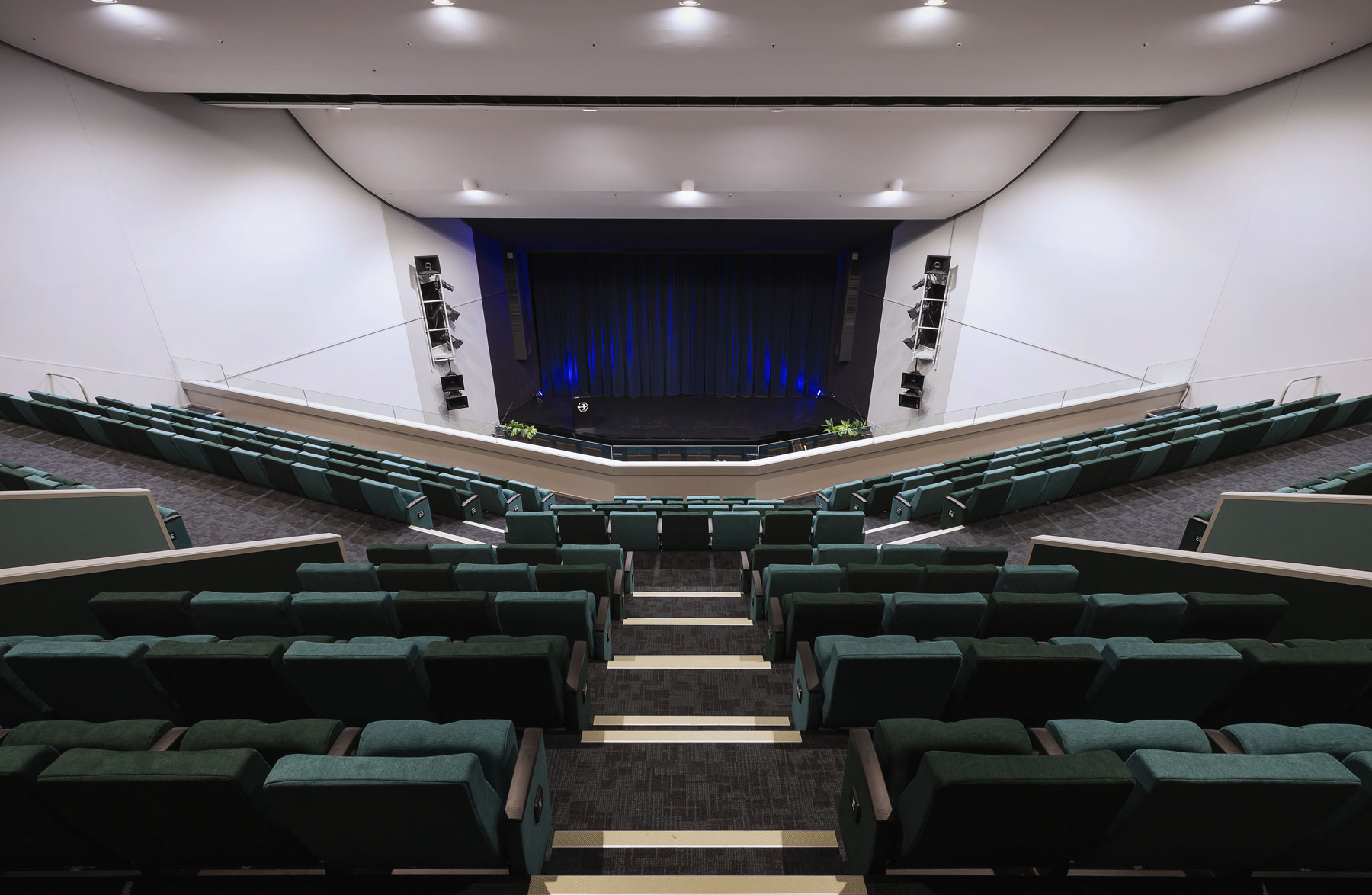 Kristen School
Auckland's Kristin School describes its auditorium as the beating heart of a campus that
serves upwards of 1600 students.
Whether it is coming together to enjoy world-class school productions, celebrating the
school's amazing students, hearing from inspiring speakers, congregating for school
assemblies and prize giving events or competing for points in House Music, it is the
auditorium that connects the wider Kristin School community.
Built in 1989, the auditorium still featured the original 30 year old seating, with the only
update being a 2005 fabric replacement. The clatter of the old seating would reverberate on
the old hardwood floors and the constant need for repairs to the seating was frustrating.
So in 2020 the school committed to a full refurbishment of the space. Auditorium Services
Manager Kate Burton oversaw the extensive renovations, bringing in the expertise of
Architectural Designer, Cielo Design Studio Director Pascalle Male, who supported Kate with
ensuring the colours and fabrics worked together.
"As well as the installation of all new seating, the auditorium was painted, we rebuilt the front
of the stage that had been a temporary structure, so we had to do all the fire pipelines under
the stage," Kate says.
"We installed air conditioning to replace the existing air flow system. We installed Autex
soundproofing panels, carpeted the whole space and replaced the front stage curtain."
Three firms pitched seating options for Kristin School's auditorium, one of those was
Alloyfold. "Murray Treweek talked us through the Alloyfold options and also talked about the
way Alloyfold supports the work of Pathway Trust, which really caught my attention because
I strongly believe in the importance of social equity in our society," Kate says.
"What was really great was that Murray took the time to look at the room and see what would
work best in that space, because when you're refurbishing an existing building, that makes a
big difference."
Kristin School was originally looking at the Alloyfold Debussy Theatre Seat, but after
discussions with Murray, they realised the Viva Theatre Seat, the same seats that feature in the Beehive's media room, would be more suited to their needs. They're fully upholstered
with an ergonomically contoured seat and base.
Kristin School installed 1,026 Viva seats, half in Warwick Manisa Peacock and half in
Warwick Manisa Spruce. "We're really stoked. Everyone who walks in here is blown away by
how it looks and feels," Kate says.
"The colours and fabric have changed everything, it feels so much softer and quieter, in what is a really busy space. Most weeks we have four or five assemblies, plus external companies
coming in, house music in a couple of weeks and we'll be completely full for that, prize
givings are back in full swing post covid and we have two major productions coming up. It is a very well used space, the heart of the school."
Quantity

1026

Location

Auckland, New Zealand

Year Completed

2022