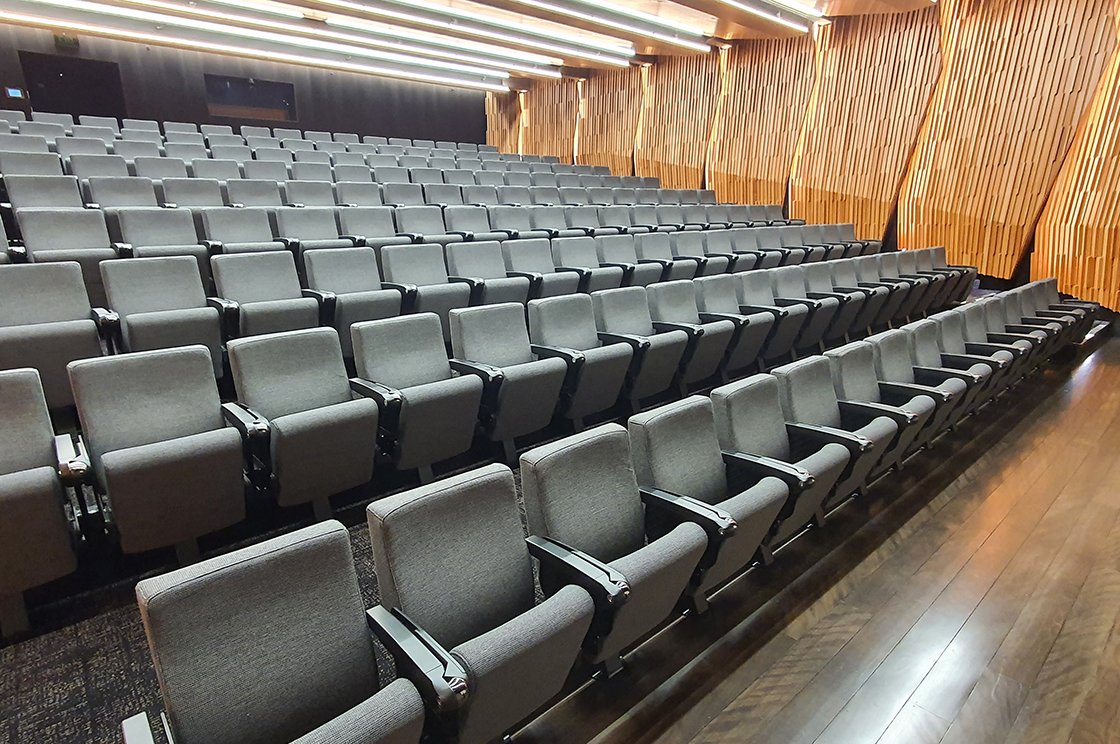 National Library auditorium
Auditorium seating
In 2018, Alloyfold Effuzi installed 170 Viva seats into the award winning National Library Auditorium in Wellington. The lead architect was Ralph Roberts of Warren & Mahoney and the principal contractor was Fletcher Construction.
The brief was to create an auditorium space that could be used for a range of different purposes, including presentations as well as cinematic or musical performances. Alloyfold Effuzi was pleased to provide our modern design low-back Viva tilt seat with foldaway writing tablets to complement the space.
The project won a number of design awards - NZ Wood Resene Timber Design Awards Winner - Internal Design Award 2020, DINZ Best Awards - Silver Pin - Public & Institutional Spaces 2019, New Zealand Institute of Architecture Wellington Awards - Interior Architecture 2019.
Timber paneling was used on the walls to create a warm and inviting space, as well as ensuring the acoustics were up to scratch for the caliber of performances that would take place. The paneling also aligns with the style of the rest of the building, which was refurbished in 2013.
The Viva seat with writing tablets was fitted with a grey fabric to complement the neutral colours of the auditorium. The Viva auditorium seat was a great choice because of its comfort level over the entire period of a performance, and its durability in a high use space.
Alloyfold Effuzi installed all seating on time, to specification and has a very satisfied client.
Quantity

170

Location

Wellington, NZ

Year Completed

2018